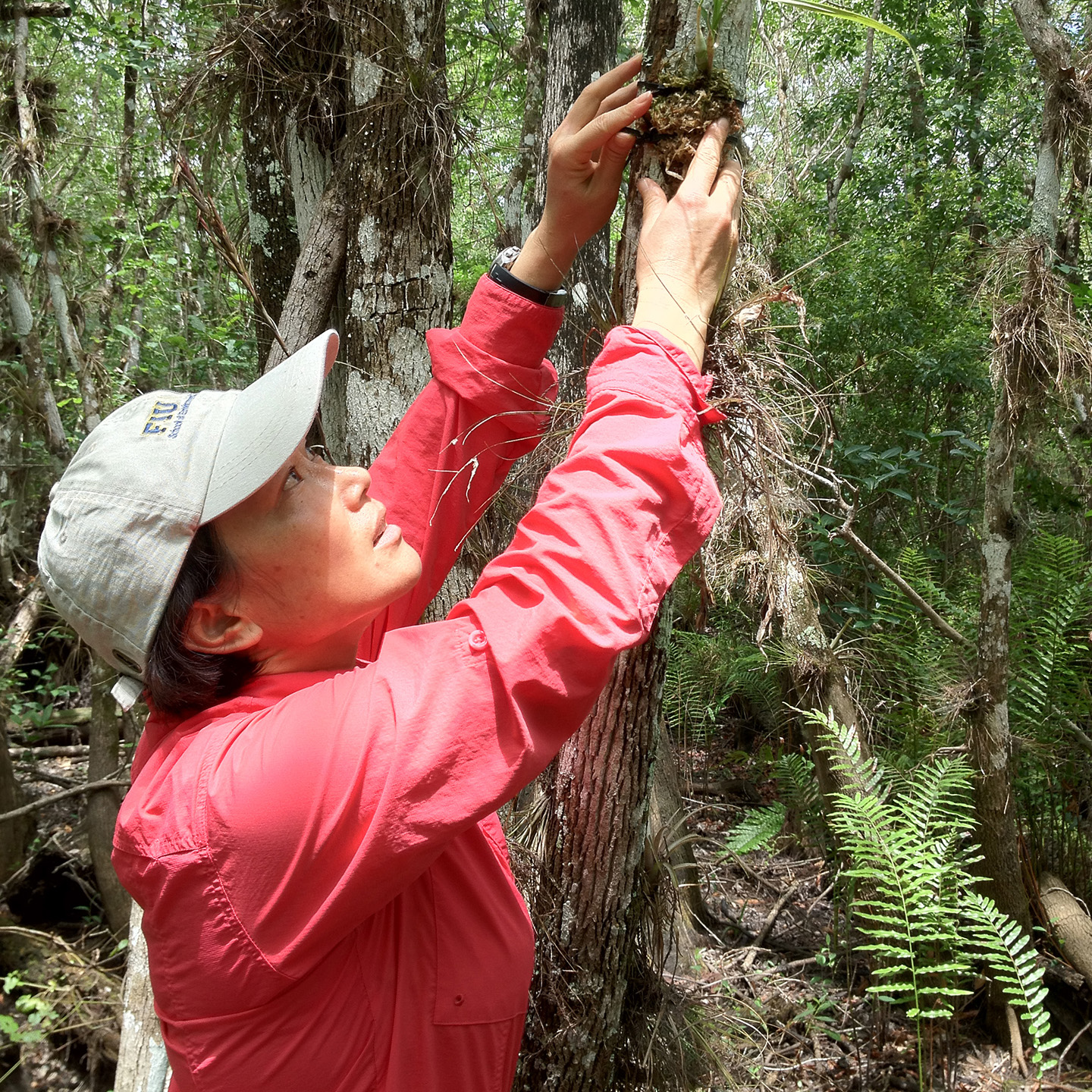 Hong Liu
My current research, carried out both in Florida USA and tropical China, addresses important environmental issues such as what are the impacts of climate change on rare and threatened species, how to conserve heavily exploited plant species, the role of biotic interactions in population persistence and expansion. I am also interested in rare plant restoration, including endangered orchids. I have served as a member of the IUCN SSC Orchid Specialist Group since 2012 and the wild orchid trade subgroup since 2016. I have published more than 70 peer-reviewed papers and my research in wild orchid conservation has been recognized by academic peers world-wide. My research has also used to inform conservation policies and measures. I am currently serving on the editorial board of Conservation Biology, a flagship journal in the field of biodiversity conservation.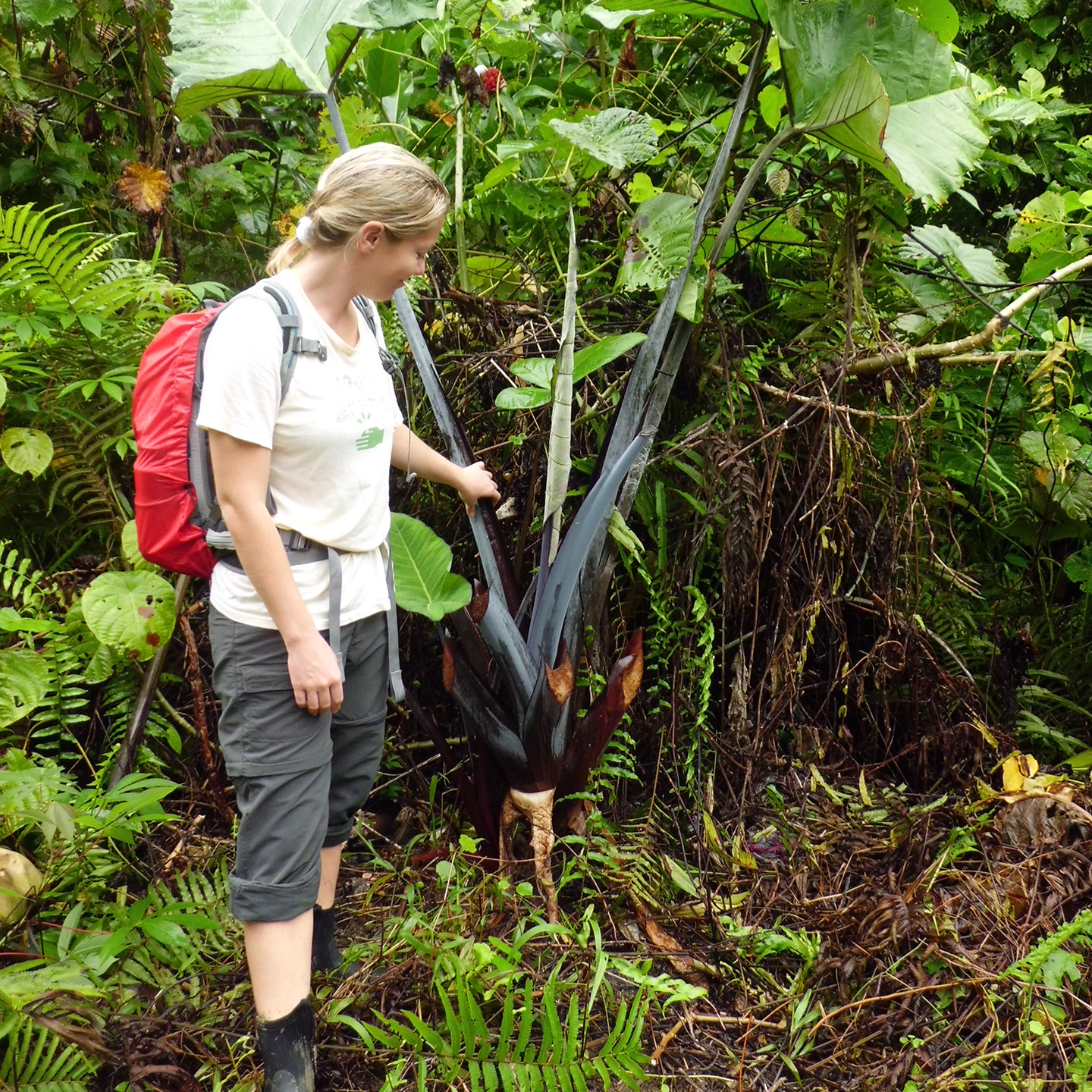 Melissa Abdo
Melissa is currently on a courtesy postdoctoral appointment with the lab. She was also a PhD student in the lab in 2017. As a PhD student in the lab she studied: "a floristic study of Halmahera, Indonesia focusing on palms (Arecaeae) and their seed dispersal".
As a current postdoctoral associate with the lab, she is studying: "palms of the Island of Halmahera, Indonesia and their seed dispersal by the hornbills". Melissa started her postdoc appointment in Fall 2018.
Haydee Borrero

Haydee is a PhD candidate who is studying the role of biotic interactions on tropical orchid range persistence and expansion in southern Florida.

Sandy Koi

Sandy is a PhD student who is studying how citizen science can increase at-risk plant and insect abundance and diversity in and near the degraded and fragmented pine-rockland forests.

Adrian Figueroa

Adrian is a PhD student who is studying the ecology and conservation of seed dispersal networks and natural disturbance regimes in South Florida ecosystems.
Past Students & Postdoctoral Associates
Qiong Ding

Postdoctoral Associate
Dates w/ Lab as Postdoc: Fall 2018
Research Topic: Mycorrhiza diversity pattern in tropical forests on Hainan Island, China

Yan Chen

Postdoctoral Associate
Dates w/ Lab as Postdoc: Fall 2018 - Spring 2019
Research Topic: Conservation challenges of plant species with high social and economic values, as illustrated by the case of agarwood, Aquilaria sinensis

Jason Downing

PhD Student & Postdoctoral Associate

MS awarded in 2010; PhD awarded in 2016, as an "FIU World's Ahead Graduate"

Dates w/ Lab as Postdoc: Fall 2018 - Spring 2019
Research Topic: Consequences of Anthropogenic and Global Change on Orchids: 

An Emphasis on Biotic Interactions

Wuying Lin

Graduate Student
Research Topic: Comparative reproductive ecology of a rare and endangered orchid and its more common congeners in southwestern China

Cara Cooper

Graduate Student
Research Topic: Seed bank dynamics of an invasive grass in southern Florida

Mario Cisneros

Graduate Student
Research Topic: Population status of Trichocentrum undulatum, a highly threatened orchid in the Everglades National Park