Our current research addresses important environmental issues such as the impacts of global changes on rare plant populations and their biotic interactions, and conservation of heavily exploited plant species.
You can read about our research in FIU News. Explore how the online trade poses new threats for wild orchids or learn about the orchid trade in southern China. 
Our research areas include field-based work Florida, as well as research about plant conservation across the globe. Our international research has focused on the conservation of heavily exploited plant species which are consumed as traditional medicine.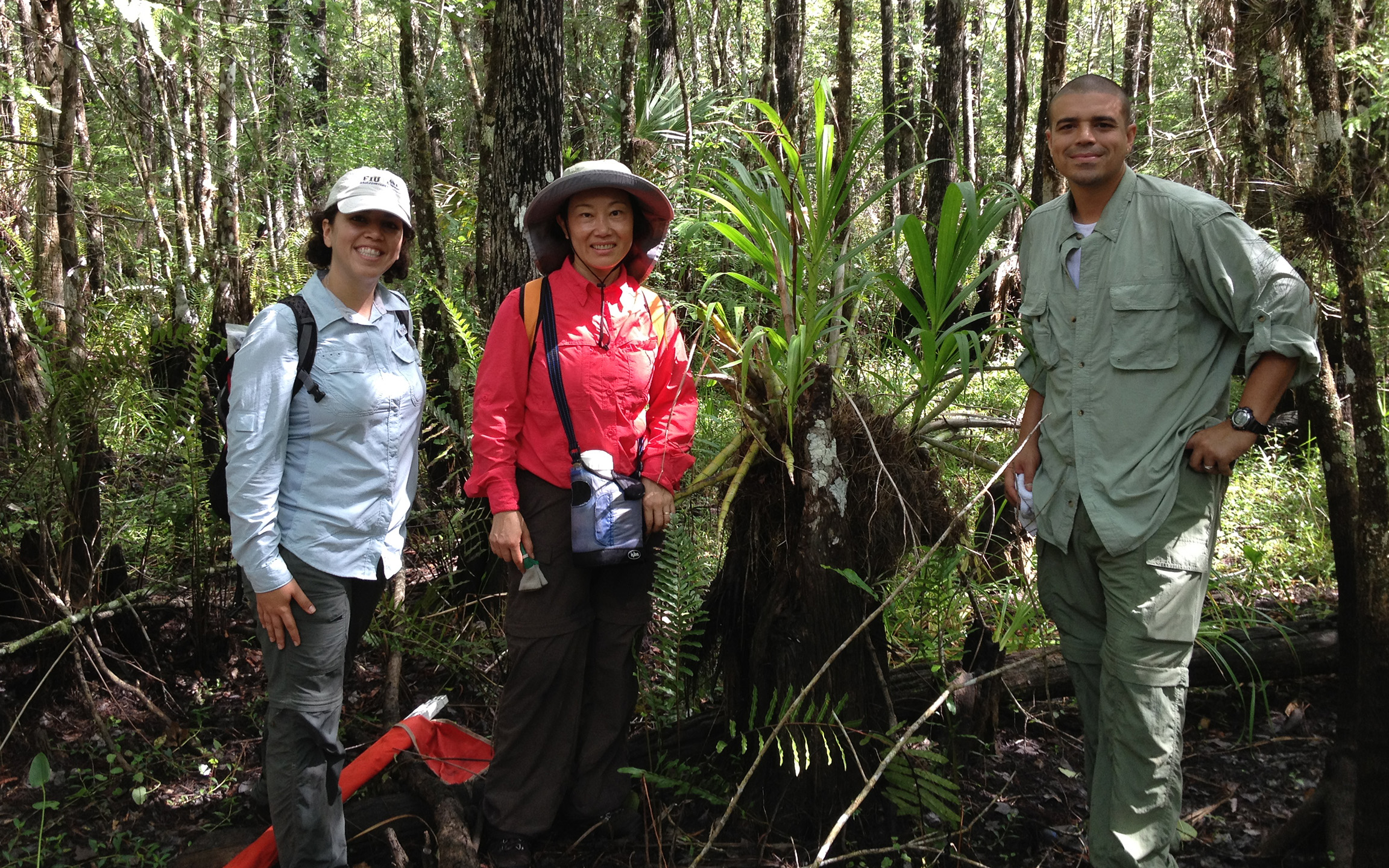 Research Areas
Below you can read more about each of the above-mentioned research areas.
Field Based Research

Our field based research is currently primarily located in Florida, on the ecology and restoration of threatened plants in swamp forests (epiphytic orchids and bromeliads), as well as the pine rocklands. These research projects have enabled us to engage and offer management consultation to various endangered species management agencies such as the US Fish and Wildlife Service, the Everglades National Park, the Florida Wildlife Conservation Commission and the Florida State Parks.

International Research

Over-exploitation is among the greatest threats to species' survival. The deeply entrenched belief that wild plants are superior as Traditional Chinese Medicine (TCM) sources makes conventional interventions (e.g. replacing wild sourced products with cultivated) to reduce demand for wild harvested material ineffective. The conservation issue outlined above applies to Chinese medicinal orchids on which our research has been focused for a few years. It also applies to American ginseng (Panax quinquefolius), a well-known medicinal herb native to the deciduous forests in the Eastern United States.
Projects
Assessing the impact of hurricane Irma and recovery trajectory of epiphytic communities in coastal buttonwood and mangrove forests in the Everglades National Park
Orchid conservation in Cuba and Florida
Conservation of illegally traded wildlife in South China
How can we have our cake and eat it too – exploring effective promotion of semi-wild production of overexploited TM plants as a conservation measure
RCN-UBE Incubator-Incorporating a short but intensive botanical experience into formal college courses to alleviate plant blindness among undergraduate STEM students
Recent Publications
For a list of all publications, please visit Dr. Liu's ResearchGate page.
2020

Yu, Daoping & Wen, Xiangying & Li, Cehong & Xiong, Tieyi & Peng, Qixin & Li, Xiaojie & Xie, Kongping & Liu, Hong & Ren, Hai. (2020). Integrated conservation for Parakmeria omeiensis (Magnoliaceae), a Critically Endangered plant species endemic to south-west China. Oryx. 1-6. 10.1017/S003060531900111X.
Liu, Hong & Liu, Zhong-Jian & Jin, Xiaohua & Gao, Jiangyun & Chen, Yan & Liu, Qiang & Zhang, Di-Yang. (2020). Assessing conservation efforts against threats to wild orchids in China. Biological Conservation. 243. 108484. 10.1016/j.biocon.2020.108484.
Diamond, Joshua & Ross, Mike & Liu, Hong & Heinen, Joel. (2020). Palm snags are a critical nesting resource for woodpeckers in an urbanized tropical region. Urban Ecosystems. 23. 67-78. 10.1007/s11252-019-00899-x.

2019

Liu, Hong

, Gale S., Cheuk, M.-L. Fischer, G.A. (2019). Conservation impacts of commercial

cultivation of endangered and overharvested plants. Conservation Biology 33(2): 288-299. 

Wong, Shan & Liu, Hong. (2019). Wild-Orchid Trade in a Chinese E-Commerce Market. Economic Botany. 1-18. 10.1007/s12231-019-09463-2.
Gale, Stephan & Kumar, Pankaj & Hinsley, Amy & Cheuk, Mang Lung & Gao, Jiangyun & Liu, Hong & Liu, Zhi-Long & Williams, Sophie. (2019). Gale, S.W., P. Kumar, A. Hinsley, M.L. Cheuk, J. Gao, H. Liu, Z.-L. Liu & S.J. Williams. 2019. Quantifying the trade in wild-collected ornamental orchids in South China: Diversity, volume and value gradients underscore the primacy of supply. Biological Conservation 238: 10824. Biological Conservation. 238. 108204. 10.1016/j.biocon.2019.108204.
Chen, & Liu, Hong & Heinen, Joel. (2019). Challenges in the Conservation of an Over-Harvested Plant Species with High Socioeconomic Values. Sustainability. 11. 4194. 10.3390/su11154194.
Ren, Hai & Qin, Haining & Ouyang, Zhiyun & Wen, Xiangying & Jin, Xiao-Hua & Liu, Hong & Lu, Hongfang & Liu, Hongxiao & Zhou, Ju & Zeng, Yan & Smith, Paul & Wyse Jackson, Peter & Gratzfeld, Joachim & Sharrock, Suzanne & Xu, Haigen & Zhang, Zhixiang & Guo, Qinfeng & Weibang, Sun & Ma, Jinshuang & Zhao, Lina. (2019). Progress of implementation on the Global Strategy for Plant Conservation in (2011–2020) China. Biological Conservation. 230. 169-178. 10.1016/j.biocon.2018.12.030.
Luo, Xiaoying & Zhang, Qianmei & Ren, Hai & Ma, Guohua & Liu, Hong. (2019). Dormancy and germination of Firmiana danxiaensis , an endangered tree endemic to South China. Seed Science and Technology. 10.15258/sst.2019.47.3.09.